Older trees need a bit of help. Instead of removing a tree altogether, instead you can support it through the use of cabling and bracing.
To give support to an aging or damaged tree, cables can be installed. They are placed high in the tree, and always above where the defect is. The usual measurement is 2/3 of the way between where the defect is, such as a weakened limb and the end of the limb.
Chances are that a bit of maintenance needs to be performed to install the cables. This can include pruning around the limb so there isn't unnecessary weight involved. Once a spot has been located, a hole is drilled through both limbs. Then, the cable is inserted and pulled taut between the two limbs.
Just remember that a certified arborist needs to inspect the cable annually. This ensures there has been no damage overtime.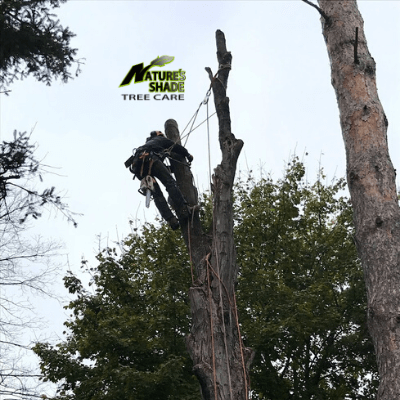 Bracing is another way to support a damaged or weakened tree. It can be used with cabling for better prevention or used on its own if the tree has split.
If you see a tree that looks like it's been split in half at the bottom, then it is a good candidate for bracing. The tree trunk has formed two separate trunks which is not as structurally sound as one. This can cause many potential issues, so bracing is used to keep the tree.
To perform bracing, bolts are installed on the two split limbs. Then, a cable is attached and pulled taut. Bracing is usually placed under the weakened area to provide extra support. Sometimes only one brace is needed but sometimes two or three are installed.
Reasons for cabling and bracing
Prevention: Instead of removing the entire tree or multiple limbs, you can support a damaged or weak limb. Small issues become larger over time and a bit of help now will keep your tree alive well into the future.
Preservation: Instead of removing a damaged limb, a cable or brace can keep it intact. This is done if the limb helps to enhance the aesthetics of the tree. Trees take a long time to reach maturity. If you have a tree you love, give it a bit of attention so that it remains with you.
Protection: Instead of hoping a windstorm doesn't bring the damaged or weakened tree down, you can secure it so that it won't fall on your home. As trees grow the spread themselves over houses. Have an expert inspect your mature trees so that a support system can be installed before branches start to break off.
We are a professional, family run business dedicated to the health of trees and the surrounding environment. We care about the health of your trees, shrubs and plants. Most of all, we truly appreciate your customers. We provide services to accommodate your most creative outdoor ideas to emergency storm damage.