Full Service Tree Care serving King City, Schomberg, Aurora, Newmarket, Barrie & Surrounding Areas
We are a professional, family run business dedicated to the health of trees and the surrounding environment. 
Our experienced team is here to provide you with any and all tree related solutions from tree or shrub pruning to large tree emergencies. 
Give us a call or use the form to experience friendly and helpful service.
The practice of tree pruning or shrub pruning is integral to the health, safety and proper growth of trees and shrubs. Annual pruning by our tree experts is plant specific and will achieve the following through selective pruning:
Remove dead or diseased branches, encouraging new growth.
Thin canopies to increase air circulation, light penetration, and reduce strain increasing structural integrity.
Clear branches away from roofs, houses, and other structures.
Enhance appearance adding to the value of landscaping.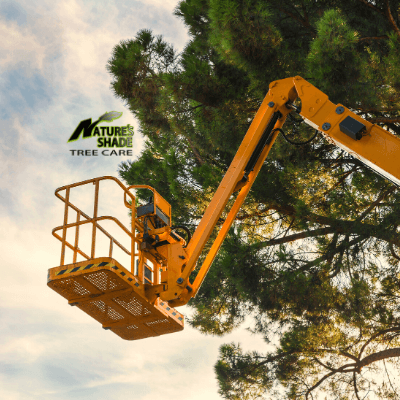 Tree preservation is top priority, but in some cases trees need to be removed due to:
Tree is dead, dying, or diseased.
Risk of failing or has failed.
Overgrowth; becoming a risk to nearby structures.
Interference with future development or construction.
Trees should only be removed when necessary. We will work with you to explore all options before deciding on complete removal. Removing trees can be very dangerous work. Nature's Shade Tree Care will use the safest and most productive methods to remove your tree.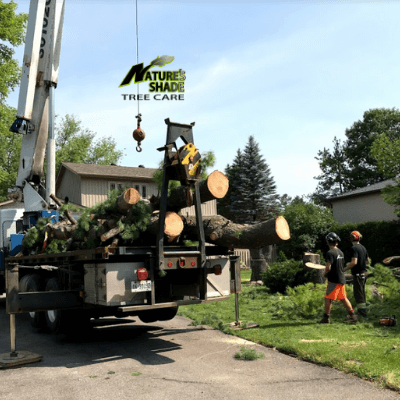 What do you do when tree falls on your fence after a big storm? Call the Nature's Shade Emergency service. When old damaged or hazardous trees fall onto your property (roof, fence, pool, etc.) they need to be removed ASAP. Contact us to make an assessment and recommendation.
What if the entire tree needs to be removed? If it's a simple job or a complex emergency removal involving high risk, we'll use our in-house team of trained arborist removal professionals to remove the tree safely.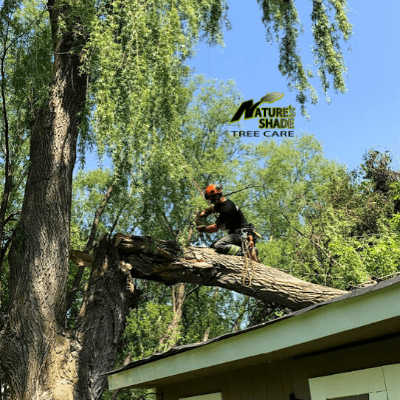 Stump Removal & Wood Chipping
Do you have unwanted brush?
Nature's Shade Tree Care offers wood-chipping services. We can leave the wood-chips on site for mulch in gardens assisting with weed control, moisture and soil retention or we can dispose of unwanted wood-chips.
We also offer stump grinding services. We can remove unwanted stumps allowing for planting of new trees and shrubs, construction projects, or simply to enhance the properties appearance.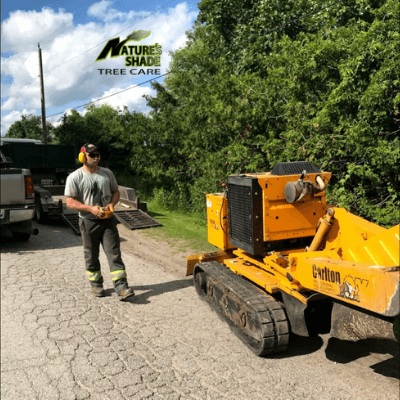 Trees can naturally have structural defects, such as poorly attached unions, splits or decayed limbs. Environmental effects from wind, heavy snow, and ice can increase the dynamic load on the tree and its defects causing it to fail. Artificial support systems such as cabling and bracing can aid in keeping the tree structural integrity sound and safe.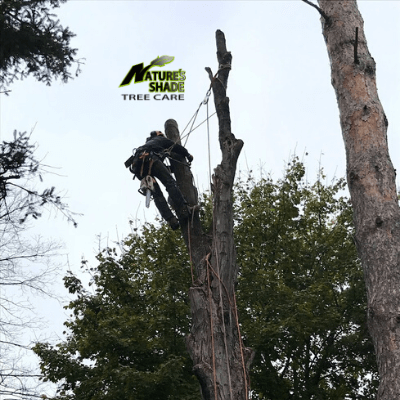 We feel it's our duty as protectors of our community and nature, to replace trees that have been removed. Nature's Shade Tree Care offers tree planting & shrub planting services that will add value and beauty to your landscape while giving back to the environment. We will work with you to help you choose the right plant, nutrients and location.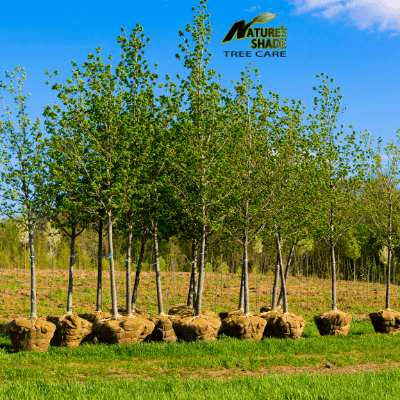 We are a professional, family run business dedicated to the health of trees and the surrounding environment. We care about the health of your trees, shrubs and plants. Most of all, we truly appreciate you, our customer. 
We provide full tree care services to accommodate all your tree care needs