Nature's Shade Tree Care provides professional tree removal in Schomberg, Barrie, Newmarket, Aurora & Surrounding Area. We have experience with all species and sizes; give us a call to request a free estimate or schedule a service.
What is a tree removal service?
Tree removal means that we'll be removing your tree from the ground. Tree removal is basically a technical task and requires trained and qualified professionals with knowledge and experience to complete the tree removal procedure safely. Depending on the size of the tree, and it's proximity to your home, we may need to bring our crane to help remove the tree in separate pieces. 
While tree removal will only be considered a last resort for healthy trees – there are circumstances when it is the only option – for example, what to do when a tree falls on your property?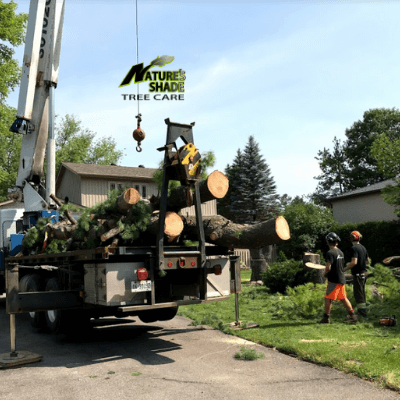 Why is tree removal important?
Insects, lightning strikes, and heavy winds can all cause irreparable damage to your trees or shrub. Trees that receive this type of damage should be inspected as soon as possible to determine if they need to be removed.
Tree removal may be essential when a tree is dying or causing an obstruction that cannot be resolved through pruning.
Ignoring a sick tree won't make the problem go away either. A dying tree has the potential to cause a lot of damage. It's dangerous and an expensive risk on your property.
A professional tree removal service is important too if you need to make room for renovations on your property. At Nature's Shade, we will guide you through the process and effectively provide you with the results you want.
Our process:
Take a photo of the tree using your smartphone

Text us by phone or social media with the photo showing the problem

We'll follow up to schedule a call or an in-person appointment.
Signs that your tree needs to be removed
These are all signs of internal damage to a tree, and quite often the damage cannot be undone:
Your tree is consistently no longer producing leaves or flowers

Half your tree produces leaves and the other half is bare

The soil is packed too tightly around the roots of your tree 

The exposed roots have fungus or insects on them

The number of insects around the tree has increased

The branches of your tree break off in large amounts, or their tips look less lively 

Branches have been falling off over a short period of time

Your tree is losing bark or it falls off easily

You have a leaning tree that endangers nearby property or people.
Sometimes homeowners don't realize their tree is dying. The process of a tree dying takes time and has usually been happening for a while before any visible signs begin to show. When they do, it's best to contact a professional.
Tree preservation at Nature's Shade Tree Care is a top priority. We'll work with you to explore all options. Nature's Shade professionals are trained in all things tree or shrub removal and will be there to help you from start to finish.
Give us a call and request a FREE quote.
Why hire Nature's Shade to take care of your trees? At Nature's Shade, we possess:

Over 10 years of experience in carrying out tree care services in the York region

Full insurance coverage

Tree Safety certification 

Fast and friendly service
In closing, please remember that tree removal in Schomberg, Aurora, Newmarket, and the rest of the GTA requires a permit to cut down with a diameter of 30 cm or more. However, if the tree is dead, terminally diseased or imminently hazardous, it does not require a permit. The applicant must still send a detailed Arborist report and receive approval from Urban Forestry before proceeding with any tree work.
We are a professional, family run business dedicated to the health of trees and the surrounding environment. We care about the health of your trees, shrubs and plants. Most of all, we truly appreciate your customers. We provide services to accommodate your most creative outdoor ideas to emergency storm damage.