Once a tree has been cut down, what's left is the stump. As a homeowner, you need to decide if you want to engage in a stump removal service to further clear the land.
A stump removal service is a bit of a misnomer. Not only is the tree stump removed, but the surrounding roots as well. Trees, especially mature ones, have an extensive root system. These roots can spread all over your yard so this is a very invasive process.
If you have a small yard and aren't concerned about where the roots have ended up, stump removal may not be the best option for you.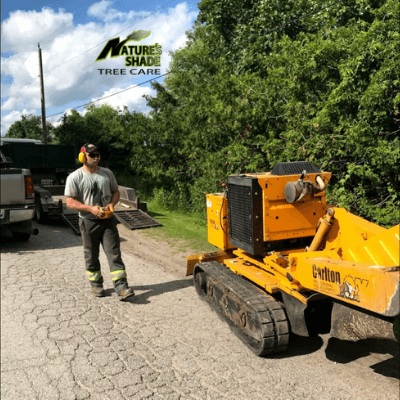 Stump grinding is a similar service we offer. It entails grinding just the stump down, sometimes 12 to 18  inches below the surface. The roots are left in the ground, and because they have been cut off from their reason to grow, will eventually rot and become part of the soil. Stump grinding involves a special machine that grinds down just the trunk of the tree. It is recommended if you have a smaller yard and don't plan on building anything on top of the area.
Hard to mow your lawn
Grass is one of the necessities that unfortunately also involves a lot of work to maintain it. While your yard would look and feel weird without grass, you do need to mow it at least once a week. Having a stump, and its accompanying roots, can make this chore even more of a headache.
Hard to landscape
Tree stumps are often large, or there may even be multiple tree stumps in a row. This in effect creates a dead zone in your yard. You can't plant anything and even worse, the remaining roots mean there's a wide area where grass and shrubs won't be able to grow.
Attracts insects
When a stump remains, it is essentially a piece of dead, decaying wood. While this is a slow process, there will reach a point where insects will move in. Decaying wood can attract carpenter ants and termites, none of which you want to have in your yard.
Affects property values
You may be okay with a stump in your front yard, but if you plan on selling your home, you may want to re-think it. Curb appeal is worth a lot and a large stump and the ensuing dead space around it can quickly deter potential buyers.
Creates a focal point
Perhaps you have a vision that involves your stumps. Carefully placed potted plants and an eye-catching décor piece. While most people tend to leave their stumps bare, there are some skilled landscapers who know how to transpose a chunk of wood into a focal point of their garden.
Fun for kids
Have you ever encountered a child who couldn't help but jump off a tree stump? If you have little kids, you may want to consider keeping your tree stump, at least for a little bit. It could quickly turn into a fun play area that will provide hours of entertainment.
We are a professional, family run business dedicated to the health of trees and the surrounding environment. We care about the health of your trees, shrubs and plants. Most of all, we truly appreciate your customers. We provide services to accommodate your most creative outdoor ideas to emergency storm damage.