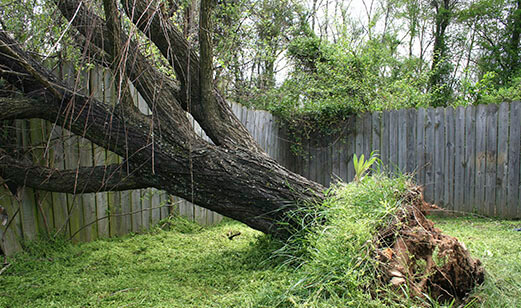 What happens when my neighbor's tree falls on my property?
Did you wake up this morning with your neighbor's tree fallen on your fence?
There are several things that may have happened:
There was a very strong storm, the tree fell and now you need a tree removal.
Your neighbor forgot to call his tree trimming service and now you have a bunch of tree dead branches on your property.
Your neighbor's tree was sick and that's why it fell
Now you're probably wondering:
Do I need to go to my neighbor to ask him to remove his tree from my garden?
The answer is NO, you may think it is your neighbor's responsibility to call an emergency tree service, but in Ontario homeowners are responsible for what falls into their own yard.
What do I have to do when my neighbor's tree falls on my property?
Take some photos to document what happened and to request a quote from the emergency tree service.
Call your insurance company to determine what type of coverage is available for damage or tree removal.
You will probably have to file a claim with your insurance company and wait for a claims adjuster to come to your house and evaluate the damage.
Note that your homeowners insurance may or may not cover the cost of tree removal, depending on your policy and the company you work with.
Always remember to use a company with trained arborist removal professionals to remove the tree safely.
What happens if the tree takes down the power lines with it?
This can put you, your family and neighbors at risk, be sure to shut off the power at your breaker box and immediately call the power company to send the appropriate personnel to resolve the situation.
What happens if the insurance company denies my claim?
Your insurance company should not deny your claim if the tree fell it is due to thunderstorms, ice storms, and high winds, but if the tree falls down due to your or your neighbor's negligence, your claim might be denied and you or your neighbor would have to pay for the damage.
What if I see that my neighbor's tree is in poor condition?
You should contact your neighbor to tell him that his tree is in bad condition. In case your neighbor does nothing, the best thing would be to send him a certified letter and take photos of the tree, this way if the tree falls, you have proof that you warned about the risk.
Homeowners should know they have dying, diseased or unstable trees, and it is their responsibility to prevent and take care of the health of their trees.
What should I do if the tree or branch damages my house?
If the tree or branch made a hole in your roof or any damage to your house, call the contractor to remove it promptly and repair the damage.
Remember to keep all the receipts for all the expenses you incur related to the damage because you will need them to ask for a refund from your insurance company.
Why is it important to take care of the health of my trees?
You must take care of the health of the trees that are on your property, not only to prevent accidents, they also increase your property value, reduce air pollution and provide habitat for wildlife.
How to take care of the health of my trees?
This is what you can do:
If you are going to plant new trees, choose one that suits the climate of your home.
it is important that you identify the species of your trees to know which are the most common diseases of their species.
Control the pest that can damage or weaken your trees.
Avoid parking the car under the tree because the soil can compact over the years and slowly kill the tree.
If you have mature trees, you don't need to feed them with water or fertilizer, only when you see that the tree is yellow or is poorly growing.
Check if the leaves have any insects, if there are mushrooms growing around the base of the tree or any odd spots on leaves. This could be a signal of tree disease.
Call a tree trimming service at least once a year.
Keep a grass-free mulched area around your tree because it can deprive the tree of air, water and nutrients.
Mulch the soil to improve soil structure, oxygen levels, temperature, and moisture availability. This practice is very beneficial for the health of young trees.
These are some things you can do to take care of the health of your trees however it is important that you use an expert, a professional arborist who can analyze the tree and see if it needs any special treatments, pruning or complete removal.
Do you have any questions about your tree's health?
We would love to hear from you.